I'm reading the most fantastic book. It's probably one of the best reads I've picked up in a long time.
WHY?
Because it's funny, and I don't have to read it from cover to cover to truly receive all its value.
Because it offers the truth.  Each page gives me some insightful food for thought AND it makes me want to take action in some of the most interesting ways.
Because on each page, there is a fun, simple diagram or graph that says it all. And I secretly love picture books.
How to Be Interesting by Jessica Hagy is a book that should be on every person's nightstand.
One of my favorite excerpts…

Set Your Own Boundaries
On time. On attention.
On money. On love.
And defend your territory from those who want to knock down the walls that keep you sane.

My Interpretation: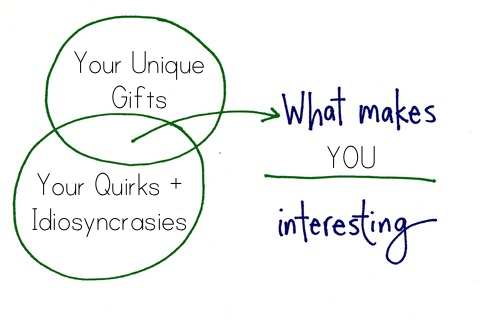 Essentially, grow a pair and do NOT let anyone derail your adventure. EVER!
Because what you can offer the world is F*CKING FANTASTIC.
And whether you impact 1 or 1000s is up to you.  And completely your CHOICE.
Never apologize for being YOU!
What makes you interesting? Let me know in the comments below. Feel free to make your own diagram or graph.
{ 0 comments }