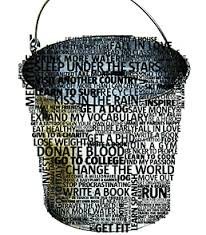 Do you have a bucket list?
You know, a list of things you want to accomplish before you die?
I used to but I've decided these lists are absolute bullshit. So I've ripped mine up.
Why?
Because my list was collecting dust. And my guess is yours might be too!
Of course, you had the best of intentions. I certainly did but instead of actually crossing things off this list, I kept adding to it.
It felt exhausting.
This list was no longer fun, it felt like a giant to-do list that was never-ending. Frankly, it just made me feel like shit.
So I axed it!
Today, I decided I'm not going to wait until I'm old and gray to realize how important it is to live life to the fullest.
I'm going to start today.
Because for me, life isn't about trips around the world, fancy cars and strings of diamonds (although all those things are wonderful).
It's about finding joy in those everyday moments.
Carter Chambers (played by Morgan Freeman) in the movie "The Bucket List" had it right.
He asked Edward (played by Jack Nicholson) two questions the dead get asked by the gods at the entrance to heaven,
"Have you found joy in your life? Has your life brought joy to others?"
That's what I want to achieve. That is my ULTIMATE GOAL.
So, from this day forward…
I will find joy in each day, even if it's for a second or a minute.
And it will be worth it because it will be one more second or minute of joy that I hadn't experienced yesterday.
I'm not opposed to bucket lists. If it works for you, by all means, create one.
But if doesn't resonate with you, don't wait until you're terminally ill to do something that matters, to feel joy in life and to love with all your heart.
Do it now.
Talk back in the comments below. I want to hear what you have to say.
{ 0 comments }