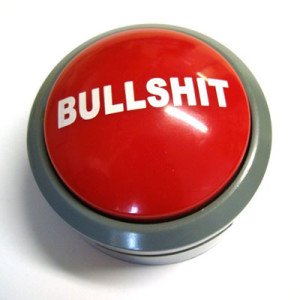 I'm in business to serve others.
To give back. To inspire.
I believe in investing not only in myself but also in my business.
I seek out mentors that I like, trust and believe in.
So when I was given a bag full of bullshit last week…I was pissed.
She said…
"There is nothing wrong with you. You just haven't been taught the right way to do it."
"I love you because I am you." 
"You must market your business from a place of authenticity, integrity and love."
Initially I believed what she was saying.
And then I heard the pitch. Over an hour of promises.
I was left feeling icky and angry.
In the beginning of the day, I was promised value. I was promised actual ideas that I could implement.
Unfortunately all I learned were her steps to success with little to no detail…and what I got was an invitation to hand her more of my money.
She did, however, offer the room an "amazing special."
I'm not sure how special it really was, considering you can get the same deal on her website.
So much for being special.
UGH!
What happened to all the value she promised? What happened to being authentic?
I felt duped.
And to say I was pissed was truly an understatement.
But we all know that being angry with someone else doesn't positively fuel us.
In fact, it's quite harmful.
So instead I am choosing to use my anger in a more productive way.
To use this experience as a reminder of who I want to be in this world and how I want to conduct business.
And its foundation will be built on service, love, and trust.
I'm not going to promise something I can't deliver.
I'm not going to coax you to visit me, promise you value, deliver nothing and then ask for more of your money.
If I say I'm going to coach you, I will be the person who shows up.
I will never lose personal connection to you.
And I will always go beyond what is expected of me because I believe in the power of communication, collaboration and heart to heart human connection.
And sure, it might take me a bit longer to make six figures but that's okay.
I can live with that.
What I can't live with anymore is the crap many coaches are slinging. I'm done buying into that shit.
Don't get me wrong, I want to make a difference in the world. I want to provide value. I want to see people SHINE.
But I'll do it my way, thank you.
Peace,
Comments
comments