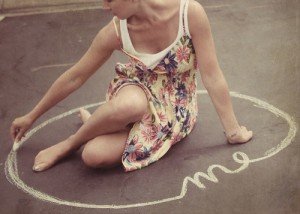 Personal boundaries are the physical, mental and emotional limits you create, often unconsciously, to protect yourself from being manipulated, used or violated.
Your boundaries can also be seen as the code of conduct that you deem acceptable.
So ask yourself, "Do you think you have strong boundaries? Are you clear around your personal limits?"
If you would have asked me this question a few years ago, I would have stood up and shouted, "Yes! I absolutely am!"
However, if you would've asked me that same question just a few short months ago, I would have to unabashedly admit, that I lost sight of some of my most important boundaries.
So what happened?
Truth be told, I really have no idea how I let myself get so lost. I guess that's what happens when you try to  pretend that the life-changing events that are occurring in your world aren't really happening.
Yes, instead of dealing with my life head on, I buried my head in the sand. Even I do that from time to time.
Boy, was that a mistake. Burying my head in the sand didn't help. Not even a little bit.
In fact, it just exacerbated the issues and not only did it compromise my boundaries, it just left me feeling like total "shit."
The good news is, I am keenly aware of my actions or lack thereof and now I have an opportunity to redesign my life my way.
So if you've been in a similar situation, don't beat yourself up over it.
You have a wonderful opportunity, as did I, to reset your personal boundaries. To take responsibility for who you are and ultimately to take control of your life.
Here's what I have learned through my own personal journey around boundaries.
You Have the Right to Have Strong Personal Boundaries
The fact is you have control over the way people treat you. You know what you are willing to tolerate or not willing to tolerate. Don't compromise those beliefs for anyone, regardless of how you feel about them. If someone is not willing to respect you, they are not meant to be in your life. Stand strong in your personal convictions and remember that those who violate your boundaries time and time again, have weak boundaries of their own and do not deserve your time or energy.
It is Imperative to Put Yourself First
Do not, under any circumstances, compromise your own personal wants and needs for someone else. Believe me, putting yourself and your needs first is not an act of selfishness. In fact, I would say it's an act of selflessness.
Think about it? What happens when you put your own needs on the back burner? Not only do you lose sight of your own boundaries, you compromise your health, and your happiness. If you are not feeling your best, how in the world do you expect to take care of and be there for anyone else?
It is Essential to Get Clear on What You Deem Acceptable and Unacceptable
When it comes to boundaries, there are no shades of gray. You know where you stand and what feels right to you and it is your responsibility to honor that. So if others have crossed a line or disrespected you, it is your job to let them know. And if they continue to behave in unacceptable ways, you also need to have the courage to enforce your boundaries. This will allow you to stay true to yourself. You do not need to succumb yourself to the pressure of anyone else to be someone you are not. Speak up. Stand strong and do not let other people walk all over you.
Creating strong personal boundaries, as you can see, is an essential part of practicing self-love. It's imperative that you constantly re-evaluate where you are and check in with yourself to make sure you are not burying your head in the sand.
Was this helpful? What are your thoughts? Have you ever been in a relationship where your boundaries were blurred? I would love to hear from you. Leave me a comment below.
Facebook Comments