Are you ready to attract customers and clients who are willing to pay you what you are worth?
Then STOP trying to be different. And be YOURSELF.
I know. It's a novel idea.
BUT why reinvent the wheel when all the richness of YOU is already there?
Get ready to unveil your unique BRAND…the key to saturating your business with your soul.
Let me tell you what it's NOT.
A brand is not your logo, or tagline. Nor is it your website. WHAT?!
Yes, your brand can influence these things and they should.
But your brand is the PROMISE of an EXPERIENCE.
To be more specific, your brand is the promise of the experience your clients/customers get when they work with you/or use your product.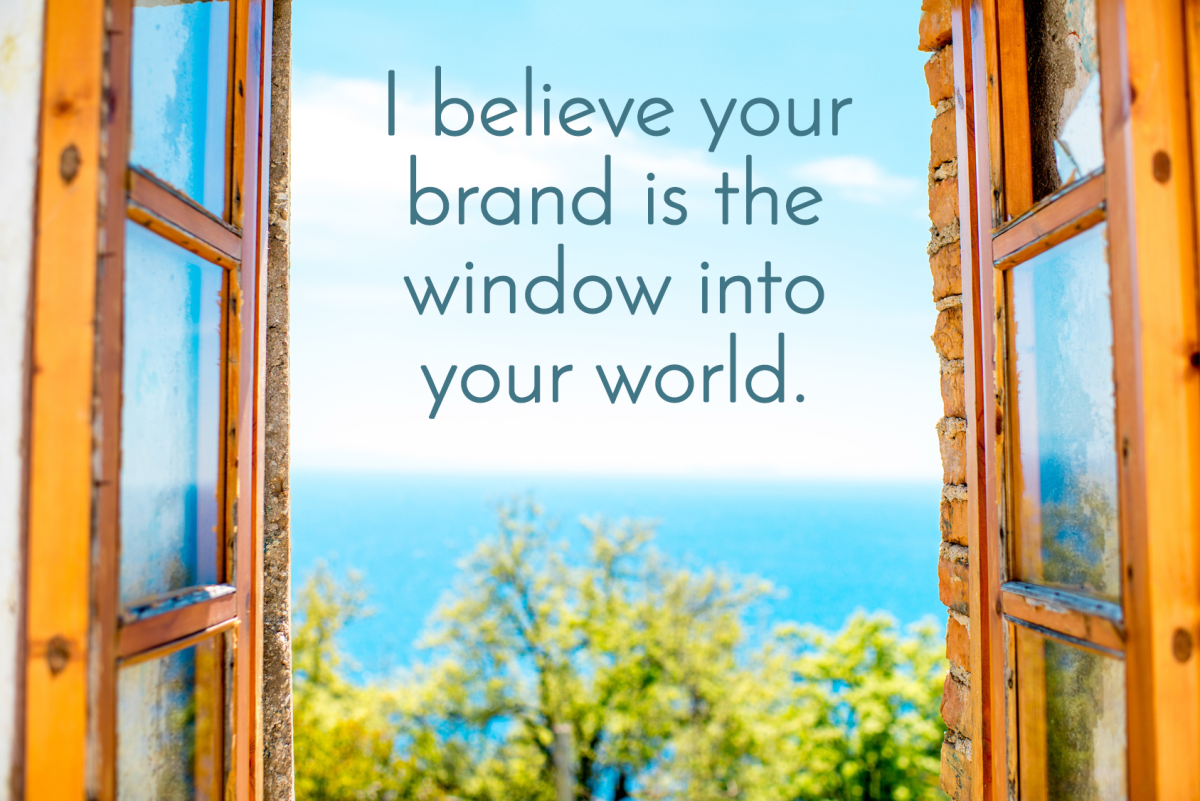 Defining your brand gives you an opportunity to create meaningful, thought-provoking connections with your clients and customers.
It tells people:
What your gifts are or what you are an expert in/at
Most people believe if you create some images, pick out some colors, and design or craft a message, your brand is done.
How's that working out for you?
You do want people to know, like, and trust you, right?
Creating a brand using your brand archetypes will help you do just that.
Sure, your business might do well without ever defining your brand but I guarantee…something will always feel like it's missing.
So what is an Archetype? And how are they used to determine your brand?
Archetypes are universal characteristics, qualities and images that are imprinted in your human psyche that initiate meaning and feeling.
When designing or redefining your brand, using archetypes is optimal because they provide a structure to help you create an emotional connection to your ideal clients.
In this process, you will use your top TWO archetypes. (These are known as your signature and influencing archetypes.)
Your signature archetype represents the core nature, motivation and driving force of you and your business. Your influencing archetype gives your first one dimension – and adds the tone, uniqueness. color and feel.
Let's take a look at my brand archetypes:
I'm the Explorer-Maverick.
My Signature Archetype is the Explorer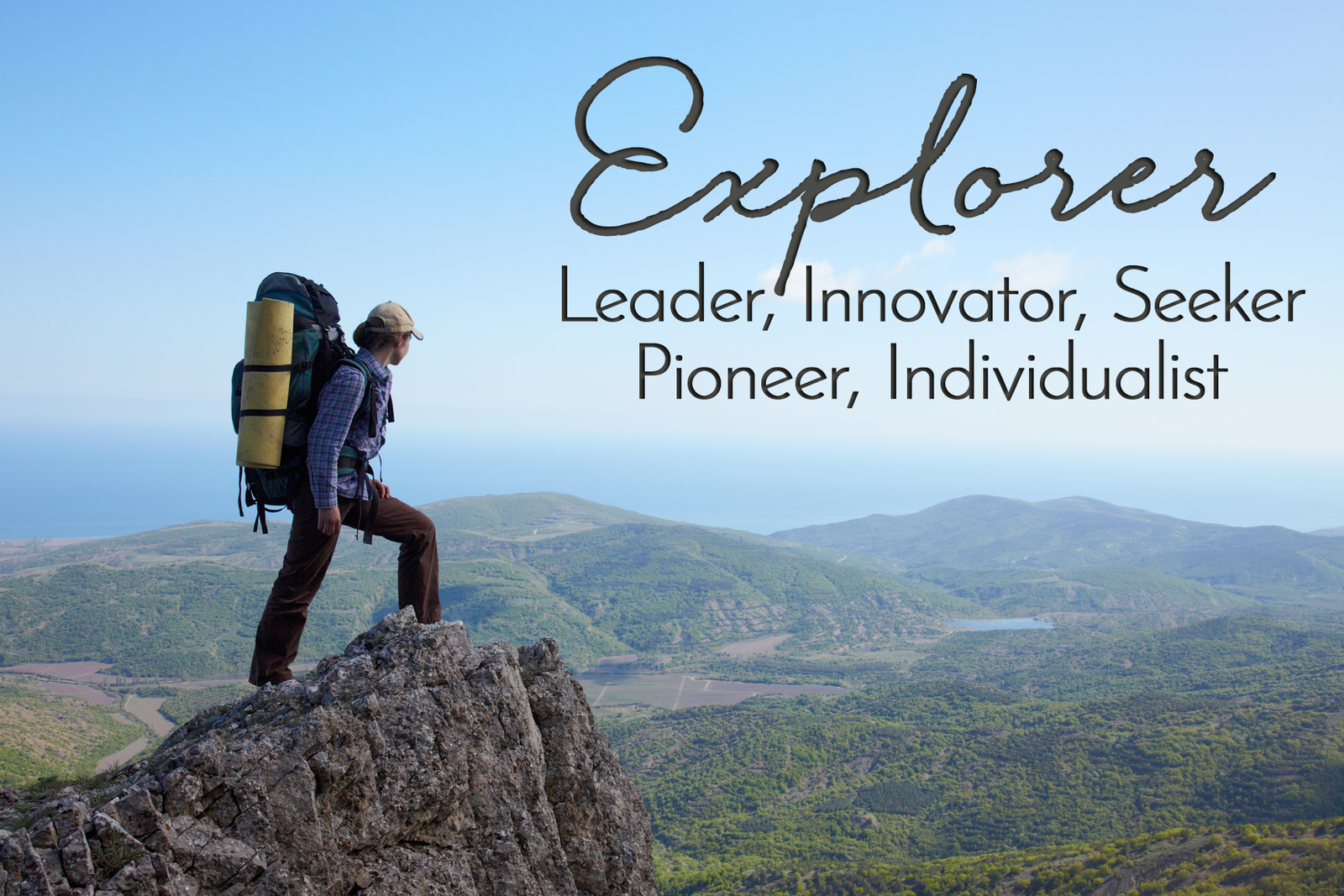 My Explorer is never short on ideas, is extremely independent, and sometimes restless. It's one of the reasons I love human behavior because there is always something new to learn.
Explorers, in general, are always searching for meaning. They never give up. And want everyone to be free and true to themselves. Self-expression and originality are essential.
You can see the explorer in my first few lines of copy on my home page…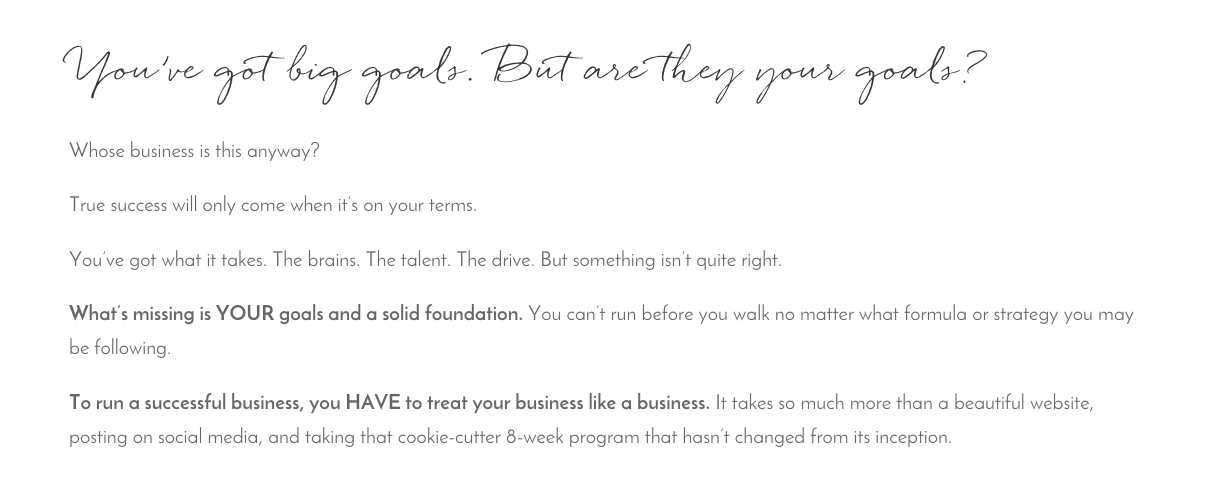 She really does show up everywhere on my site – in my copy, in the imagery, even in my colors!
My Influencing Archetype is the Maverick
My maverick can be a bit moody, says what she thinks, never sugar coats anything and loves to curse to make a point.
Clearly Mavericks like to break the rules. They are rebellious, challenging the norm, and like to shake things up.
My maverick shows up in my copy as well. My home page declaration is a perfect example: "Enough is Enough. It's Time to Do It Your Way."
You can also see her in my blog posts…can you see the Maverick in this line?
Don't fall prey to the "prom dress" photo shoots or the "anyone can be an expert" bullshit.
If you want to see them both in action, you just need to glimpse at each page of my site.
My entire online home is built around what I stand for which is: you must unequivocally be REAL no matter what.
This is a cardinal "rule" for my Explorer-Maverick.
Clearly this attracts a certain type of client. And deters others. And that, my friends, is the point.
Get ready. Put on your seatbelt. You are in for one wild ride. It's time to uncover your brand archetypes!
In this workshop, you will:
Identify your unique brilliance and use it as a powerful catalyst for focusing your talents and gifts on their most profitable actions.
Capture your personality, passion and spirit into a REAL brand promise you can use in your marketing.
Use your Brand Archetypes to immediately begin growing or up-leveling your business which always mean an increase in your bottom line (and your bank account – Cha-ching!)
You will also walk away with:
The gifts, strengths, challenges and Spiritual Contract of your Brand Archetype, and how to leverage them.
Specific words to use and feelings to evoke in your marketing so that your brand stays consistent and memorable.
Examples of successful companies who share your Brand Archetype, so you'll have powerful models to follow.
Kimberly's Branding with Archetypes Workshop was truly an amazing experience. Even though I already had the logo, brand colors, wonderful clients, and a website, I didn't really know what was at the core of what I do. Yes, I'm an Online Business Manager/ Virtual Assistant, but what I truly do is help people feel light. What a big revelation!
The workshop was super fun and Kimberly really knows her stuff! First, I took a test to see what my archetypes are, then we went through the workbook together and filled out all the answers. Kimberly was right there with me, present and giving examples whenever I felt stuck. What I walked away with was what I stand for, what I'm an expert at, my brand promise, values, ideal clients and personality of my brand. Now when I consider adding something new, like a service, I can question whether it matches up with my mission and brand.
Another big takeaway from the workshop is a slew of words I can use in the copy of my website, social media and bio. If you're considering taking this workshop, it is well worth the money. You won't be disappointed! Billie Gardner
Branding With Archetypes Assessment
This assessment will reveal YOUR Signature Brand Archetype and Influencing Archetype. . . and so much more!
The Soul of Your Brand Guide
This will be invaluable to your business. Think of this as your quick-glance view of your brand. It will be used when you go in creation mode, something you can hand your graphic designer, or website designer.
A PERSONAL, Private 45-Minute session with Me
This intensive will solidify your brand, give you action steps and provide you will an even deeper understanding of how to use it.
BONUS
Gorgeous, Full-Color Branding with Archetypes Cards
These cards illustrate the strengths, qualities, spiritual contracts, branding words and much more for all 12 of the brand archetypes. **You will receive digital copies the day of the workshop but as a BONUS, I will ship to you colored copies right to your doorstep after the completion of this workshop.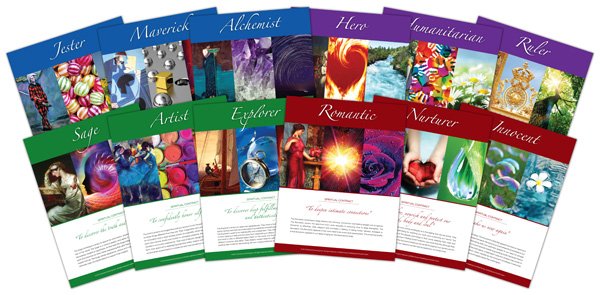 Kimberly's Saturate Your Business with Your Soul got me MEGA clear on my business, and the types of things I need to start saying to attract the right clients. Because of the exercises, and how she built the program, I learned, based on my strengths and weaknesses, how my clients are going to feel as they're deciding if they want to work with me, and which emotions they're experiencing. As a result, I'll be able to better understand how to reach them.
Plus, I better understand what makes me unique. She helped me figure out what I'd fight to the death for in my clients, what I'd do no matter what, what I won't stand for in a client, and what they're looking for from me.
After our workshop, I was so excited to implement what I learned, I rewrote my copy, chose new photos, created a new site, new programs, and now have a new outlook on my business.
If you are trying to decide if you should do it, I'd say GO ALL IN because Kimberly will seriously help you discover new information about your business you didn't realize before. I can confidently say that it sparked my game changing moment! Gina Loveless
You'll take the archetype assessment to figure out your archetypes.
You and I will hop on the phone or Zoom.
Together, we'll work through the workbook, hand in hand, to get super clear on your brand.
You'll walk away with your own personal Soul of Your Brand Guide that outlines everything your brand is about.
This workshop will last 3-4 hours with breaks as needed.
Investment
$597
$397 Beta Price 


(Or 2 payments of $207)
It's Time! Let's Take Your Business and Your Brand to the next Level.